Chapter 2 Learning Optispeak
My Optibike baby steps……
First Ride Impressions:
I finally put together the Optibike with the help of a friend and ran out of my basement. I noticed how smooth the electric motor was getting climbing the hill out of my basement and then noticed I didn't even had the motor on! I then went around the neighborhood twice and climbed the monster- a 14.4% grade hill from the pool to my house (.2 mile). Even with the motor I had a very good workout. Looking forward to long commutes….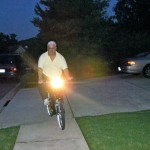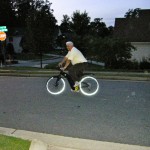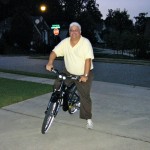 Second day, warts and all
After yesterday's "baby" ride – I slept like one. Today –  day 2 – I checked the shocks pressure  -after finally glancing at the instructions- since yesterday I hit the ground a few times with the pedals (wart #1) while pedaling up hill and when pedaling into turns (yes, I did pedal).  My friend showed me yesterday how to tighten both shock's piston travel distance (or something like that)- which did improve the amount of twisting the bike did with my fat ass on the bike but it didn't solve the problem completely.
So before I took off on my 2nd day ride I had a couple of senior moments Today I couldn't figure out how to pump air into the front shock. I was able to figure out the rear shock which came at 90 psi. I then tried to check the air pressure of  both tires – but first I must read how to connect the special pump. After a few frustrating tries and  since there was no pressure gauge on the pump – I decided there was no point to figure out how to connect the special connector to pump air into the tires.  Tires were very full and hard – thus the air check can wait till my first check at the local bike store.  Can anyone tell me what is the advantage of these new air valve connectors and why would you have an air pump without a pressure gauge?
The other wart was that the Sigma sport bike computer never turned on. I changed the battery with no avail. I even went online to see if there was a special handshake to turn it on. I guess it was DOA maybe while in transit. I noticed a hairline crack on the back of it. Oh well – Craig – please send me a replacement….
Anyway – I was able to get out of the house before sunset and went to my 2.5 mile ride around the neighborhood. Whooooaaaaaa!
Was it fun!!!!! Yeah! Did I learned to turn on my helmet cam while riding the bike … no.  One thing I learned today -must learn to smile while biking with my mouth shut….. I inhaled a few bugs!!!!
'nough said for day 2. Looking forward to a long ride this weekend – even if the weather doesn't cooperate. I'll stock up with Ben-Gay, I think I will surely need it this coming weekend.
Good night! 

Neighborhood ride – length and altitude
19 mile rumble – no muscle rub required! (not yet)

2009

September 26

My 19 mile first bike test- altitude and distance profile 
My last major bycicle ride was probably fall of 1976. Today thanks to the OptiBike patented MBB I was able to ride 19 miles the last 6 of them in a downpour. And that rainwater tasted like sweet nectar. I never done something towards losing weight that brought such a smile to my face. Yes – I almost ran out of juice but I went for over an hour with slight burst of uphill power.  The route – Duluth – Suwanee – Lawrenceville  – Duluth with a few monster hills. Kept my pulse rate at the "zone" for over an hour (85% of max heart rate). I'm now trying to download the video from the camera. Stay tuned…
14 mile ride and a surprise

2009

September 27

Altitude and Distance chart for Duluth Festival ride 09/27/2009 
I  never rode 33 miles in two days as an adult.  Am I tired? I'm not, but my legs are – that is the reason I didn't make it a 20 mile day today. I'll take a couple of days off  and then Wednesday- I'm planning on doing a 20 mile organized evening ride in Roswell, GA.
The surprise? I'm working on a video with shocking pictures…. of a weight scale…
Il preparazione d'un Multo Grande Challenge

2009

September 29
No I don't speak Italian… but I like italian food…. Here's what's up… Fall weather is rapidly in Atlanta and the most perfect riding window – maybe for the whole year- is now. I want to commute to work as soon as I could possibly handle 44 miles in a day so tomorrow Wednesday September 30th – I'm joining a bunch of avid cyclist on a 20 mile ride from a bike shop in Roswell. No I'm not telling them my secret MBB nor the Tesla batteries inside. Let's see their faces when this Gordo overtakes them going uphill…..
Wish me 'Full battery power' for my first organized ride in 33 years……
Leave a Reply
You must be logged in to post a comment.